Barns offer beautiful conversion options to dwellings, although planning policy, whilst simpler under Class Q, can be restrictive. There are excellent examples of conversions which have used quality of design to overcome the issues which can arise. We have carried out a number of these projects, a small sample of which you can see below.
Dutch Barn conversion
The barn at Weeford was originally agricultural, and under change of use became a storage facility for a florists. An application was made to convert this into a domestic property and gained approval in 2021. Structural integrity had to be demonstrated, although a new envelope was permitted. The barn is situated adjacent to a number of listed buildings, but it works seamlessly within the community and will provide a two storey family property with far reaching views across the countryside.
---
The Cart Hovel
Cart Hovel is based in Hints, Tamworth and is listed by association. The primary barn was converted some years previously but the open barn has now been brought into domestic use, gaining planning approval and listed building consent in 2019. The space forms an open plan lounge, with office and kitchenette and a two-storey guest suite is included to part of the space with kitchen facilities and bathroom. The project is now complete.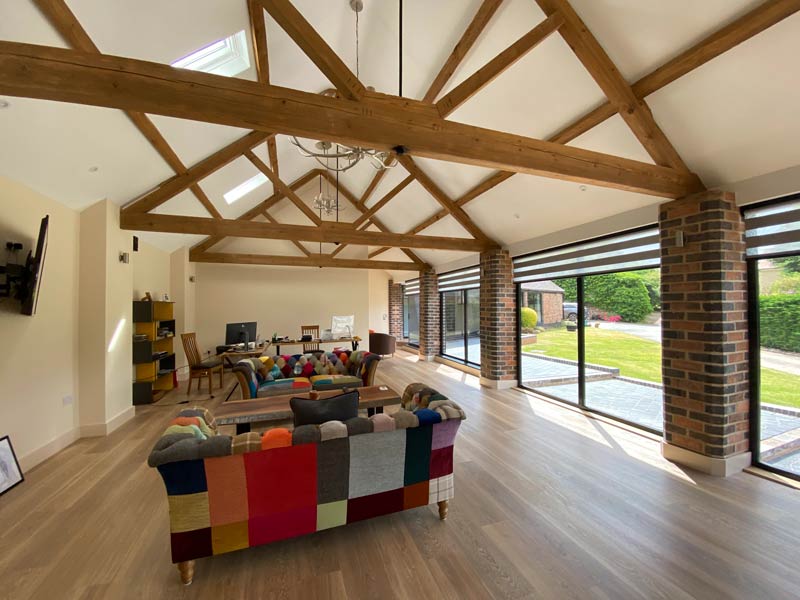 ---
Upper Haughton Farm
Upper Haughton farm consists of a farmhouse, several outbuildings including a Dutch barn, and operates as a highly functional dairy farm. We were approached by the farmer and his family to convert several of the brick outbuildings and the Dutch barn. With the intention of converting into dwellings of various types. Each property has generous land and individually designed internal layouts with qualities of each property retained. Currently in planning.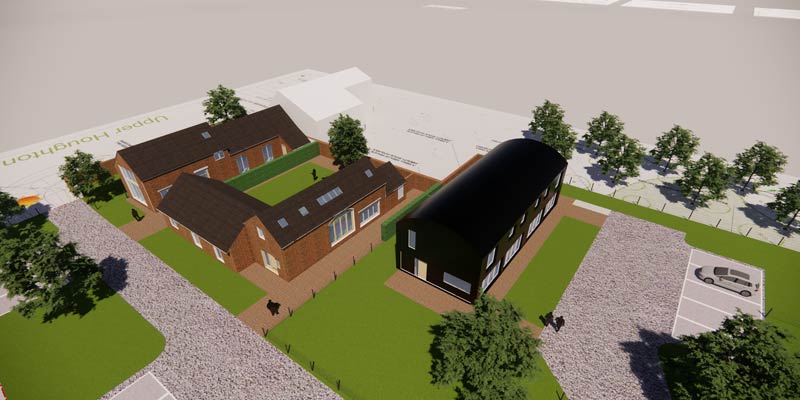 ---
Kings Bromley Rd Barn
Kings Bromley Rd Barn is situated in the village of Alrewas and is part of a larger development which gained approval. Each floor was converted to a one bedroom open plan kitchen/dining apartment. Features of the barn including timberwork/trusses etc. were retained and new double glazed units introduced. Full thermal treatment to floors and walls was also included. This property is now occupied.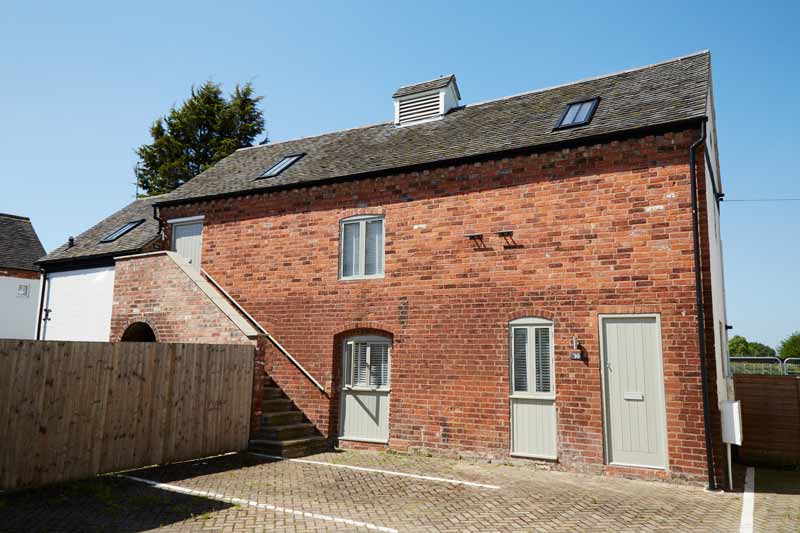 ---
Meadowview barn
Meadowview barn was a 3 storey section of an existing granary barn, within the curtilage of a listed building. The owners wanted to split the barn into two, with a simple single bedroom dwelling over three storeys (converting the attic) and a large 2 bedroom property to the remainder of the space. This included forming new glazed openings to the barn and complete internal reconfiguration of the space. The spaces are efficient and contemporary.
---
Mellor barns
Mellor barns is based in the village of Alrewas and started life as a cow shed and pig barn. In 2012, the owners purchased the property and retained the brick barn which was suitable for renovation. They demolished the second barn and built a vaulted single storey building in its place. Employing as many carbon neutral elements as possible and creating a highly efficient thermal envelope, the barns are now both home and office to the family.
---
The Abbatoir
The abattoir is based in Solihull Lodge and was used as a slaughterhouse for the butchers which is now, many years later, still in business. It originally gained approval for demolition and replacement bungalow. The new owners thought that, harsh as the building was, it had some special features worth preserving. It has been extended, renovated, and is now a completed two-storey family home with vaulted ceilings and a brick built courtyard to frontage and large garden to the rear. The property was sold before marketing.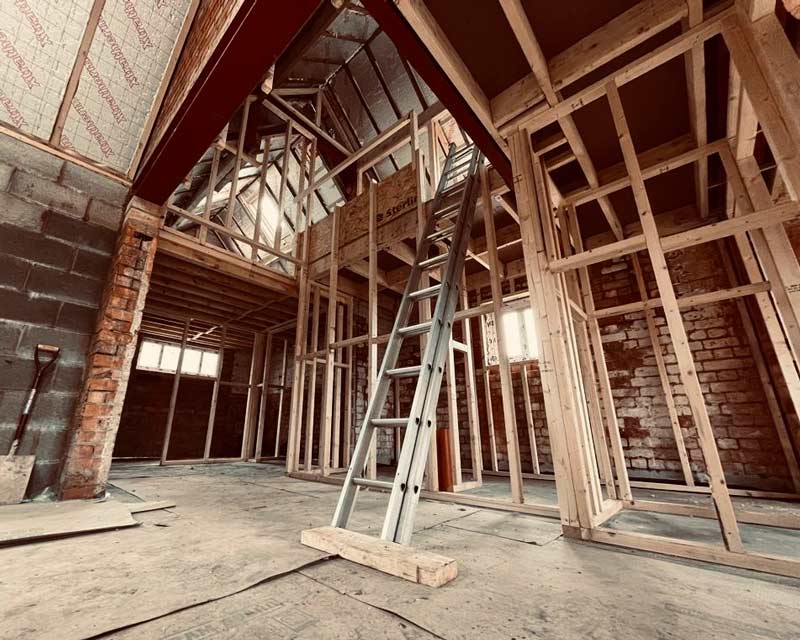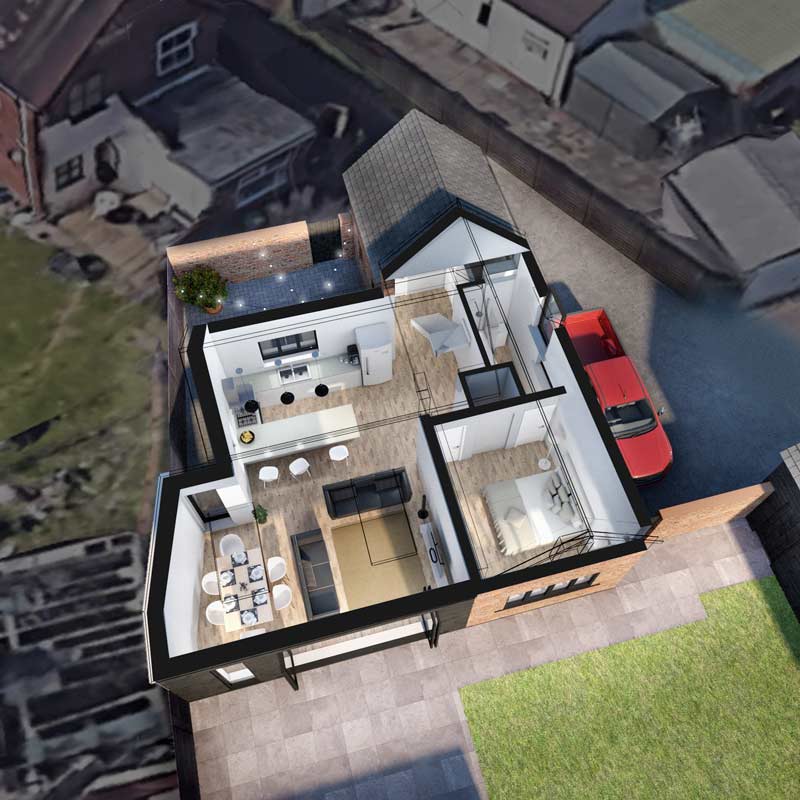 Get in touch here if you would like to chat about these barn conversions or need help and advice on your own project.